Living Dead Dolls - Ressurection
7/1/2019
Mystery boxes, blind bags, surprise packs ... they all go by a different name, but they've been the rage for a few years now. Funko is by far the leader in all of them, but they're by no means the only game in town. More or less, they follow the same formula though. Generally there's a grid of 12 boxes usually two layers higher, two wide, and three deep. A few random ones do it differently, but in addition to the overall count, there are varying levels of rarity with the figures inside.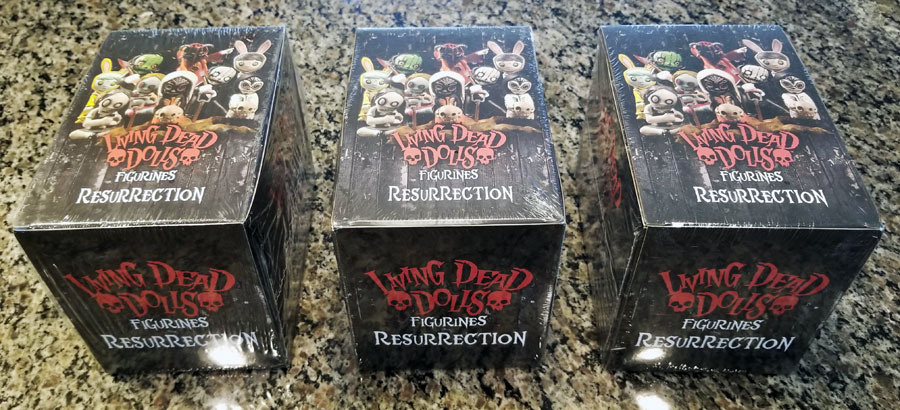 I grew up collecting trading cards of the comic variety, and while picking up the stray pack was fun, there were still two goals that made this approach difficult. First off, you needed to try and complete the set, and secondly you tried to hunt down the chase cards, or bonus cards as I called them. It wasn't long before I would attend the numerous comic shows at Knights of Columbus or head over to the wholesalers club and outright buy the boxes of card packets. You were generally at least guaranteed to get the base set, and a good chunk of the chases. It made buying the individual packs an almost pointless endeavor.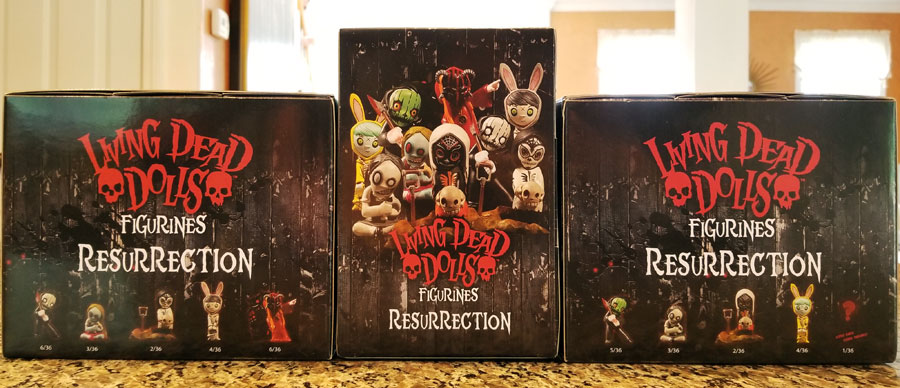 So with that infinite wisdom of the ages, we're presented with a similar hurdle. Except now we're not dealing with $1.25 packs of cards that get you 10 steps closer to your goal of 100ish. No, these are $7-8 with sets varying from 9-15 in total. Once in a while your will find some fandom of lesser interest that will simply put a 1:12 ratio on each character, and a case will just get you everything. Done. Others would allow for an 11 item base set and 3 chases spread out in 1:36 odds, so you would get one at least.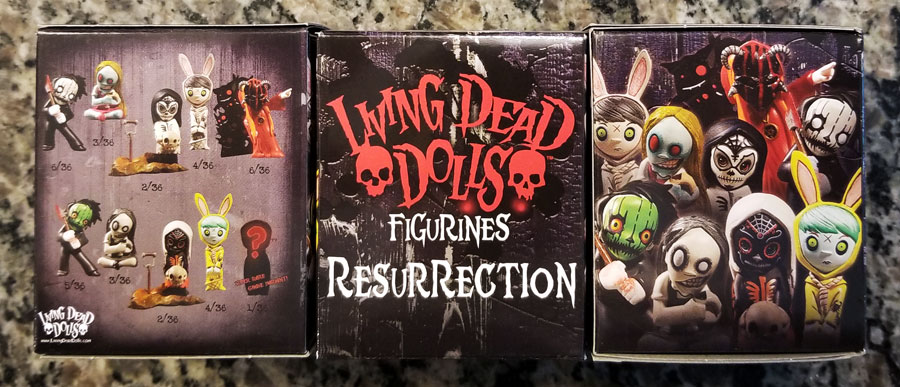 It didn't take long for, mainly Funko, to start adding 1:6 figures so you got multiples, offset by up to 1:72's that would require a theoretical 6 cases to get. It just got ridiculous at that point, and the method of getting them by the case, let along box by box, seemed to fall apart. At the very least with this release by Mezco, they return to the 1:36 top level chase, and only one of these variants at that. They also measure everything against 36 boxes too, so instead of 1:6 - 1:72, it's 6:36 - 1:36.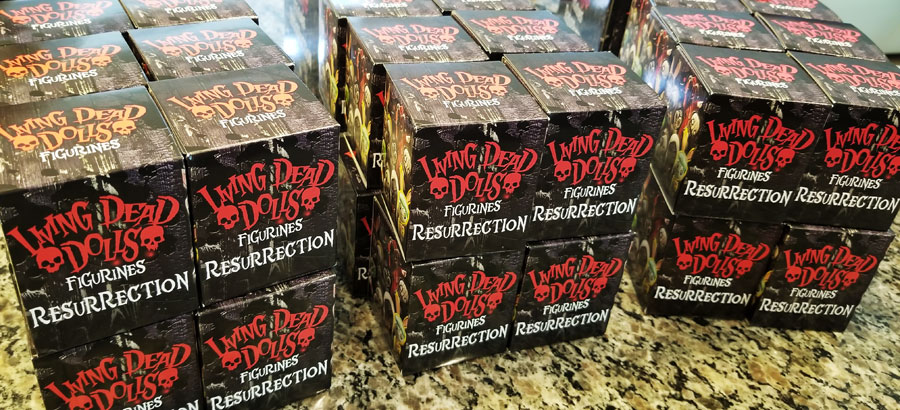 With that general simplicity, I just got three cases and hoped for the best, hoping that this was enough to complete everything. I knew the intro to this would end up being much longer than the actual figurine write-up, yet I took a million pictures, so you've seen what this is all about from numerous angles at this point. I haven't had much experience or interaction with the Living Dead Dolls line. I know I'm writing about toys and soda here, but as a grown man, I have to draw a line at dolls no matter how morbid their presentation. However the original dolls have been reduced into small figures, and I couldn't resist the aesthetic of them.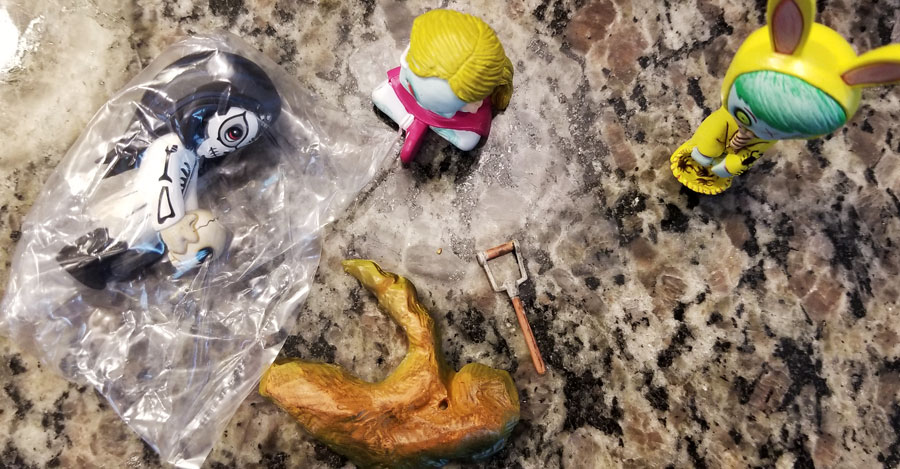 The theme of this release is Resurrection, so we have an array of undead characters. Every figure has a repaint, but there's an axe-wielding psycho, zombie doll, undead trick-or-treater, cultist, and a day of the dead inspired grave robber. As we see, some of them require the most basic of assembly, and those come in a second inner bag to keep the parts together. Oddly enough, the small parts were always loose, and the base figure was wrapped, but nothing was ever missing. Additionally the pieces like shovels and handles had a flat edge, so fitting them was never an issue.
So there's the contents of the first box. On the positive note, I got the chase character after only 4 boxes. I was relieved that I got it, but then sort of embarrassed about the overkill. Once I completed the first case, I only had eight of the nine in the base set, so I moved onto case #2.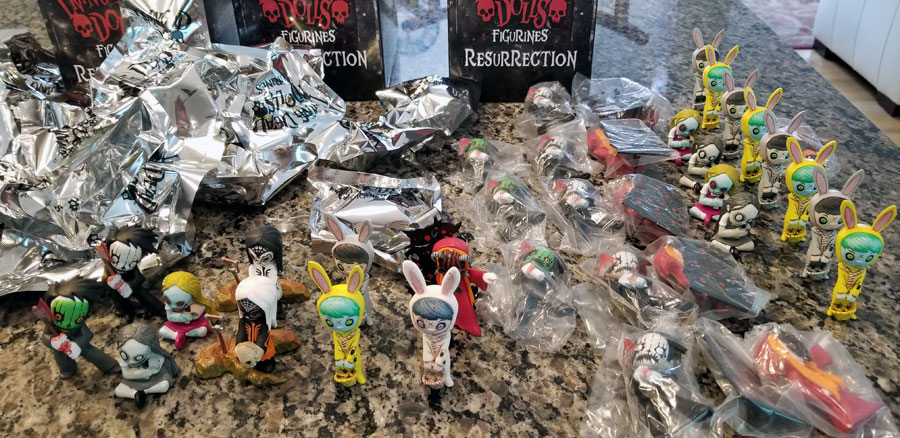 Fast forward to all 36 boxes open and making a mess. I took a photo of the baggy, but the reflective nature just wasn't playing nice in the photo. You can see them over in the bag in any case. So I did get that last piece from the base set by half-way into the second case. Pretty much exactly split, on box 18. I'm glad I did, since it's probably my favorite of the bunch. They certainly went overkill on the cultist though. The odds more or less played out, with exactly 6 of them as predicted, but the trick-or-treater count was way out of balance. I also only got one of the gravesite figures too, so no dice on getting two complete sets.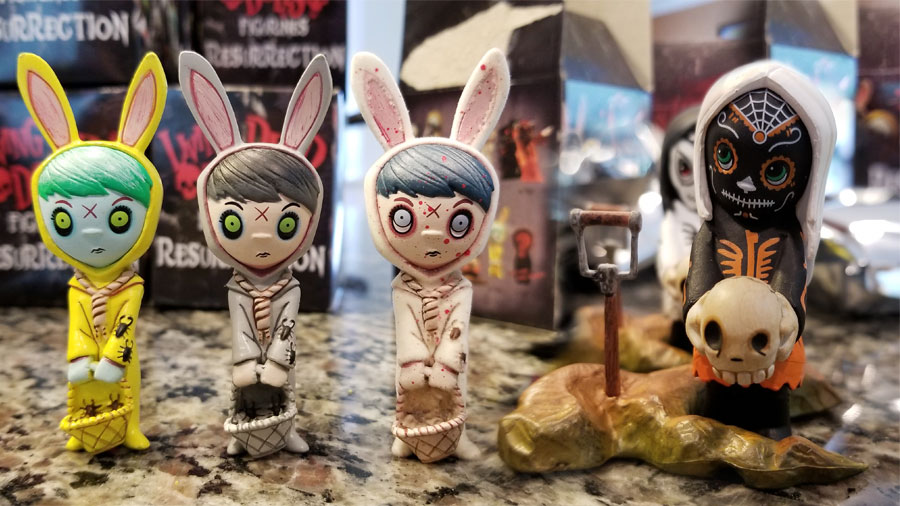 So let's actually look at them closer. Above are the trick-or-treaters. I really don't mind getting so many of these, since the detail is great. Plus I can have a clone army of hanged children ready to throw eggs and tailless scorpions as those who leave their light off on Halloween night. I was taken off guard by the blue haired and bloody variant, and I initially guessed that it might be the chase since it doesn't appear on the box. It turned out to be the case and while simple, I like the look of it. Over to the right is the black and orange version of the day of the dead grave robber (I suppose these all have official names, but that will be your homework). I ended up getting two of these after not receiving one in the first case. I love the look of it, despite not usually incorporating that theme into my Halloween decorating.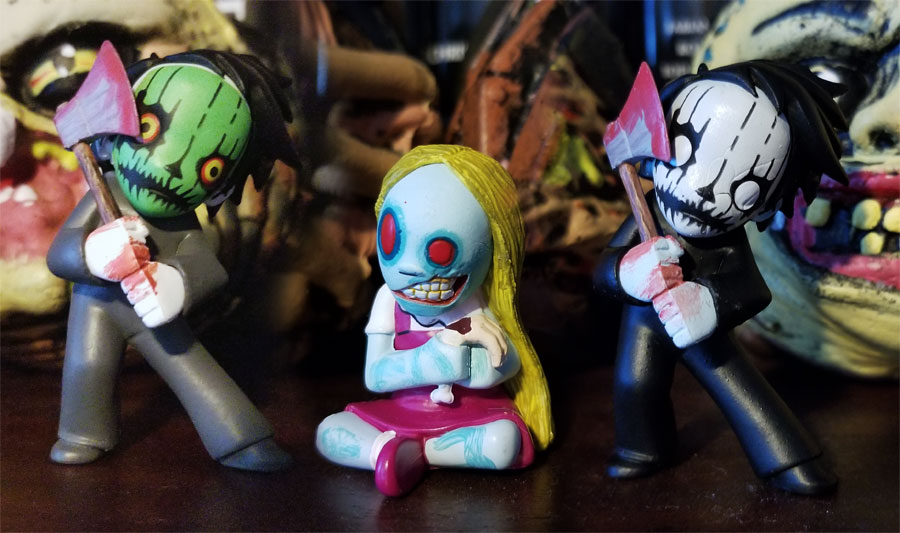 Next up are the axe-wielding psycho, one in a green watermelon mask, and the other with a desaturated yet equally bloody look. The zombie doll holds a severed hand and can't help but smile since half of her face is missing. If I had to pick a least favorite, it would be this one. I don't care for the paintjob, and they're on the small side.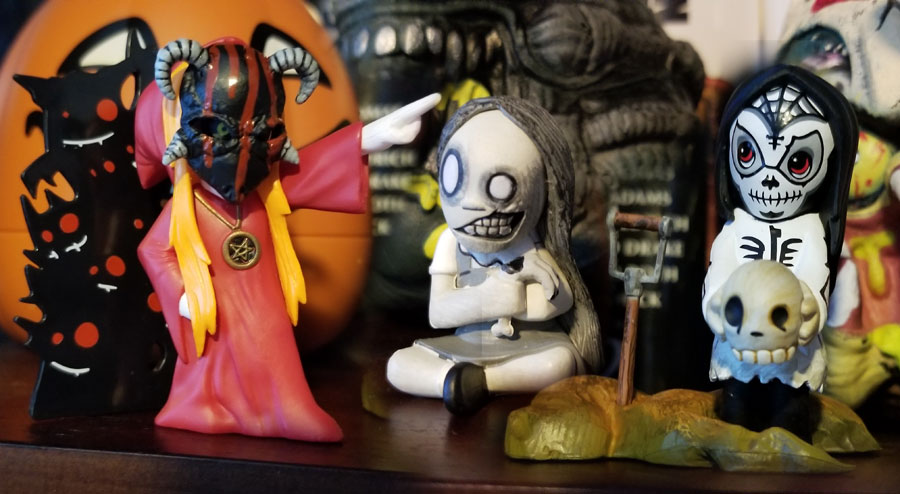 Finally there's the cultist which comes with her own spooky backdrop. It's not connected and instead has its own stand as if it were a prop in a school play. The legion of demons are certainly the cutest and least threatening I've seen too. If the multitude of figures has any benefit, it's that I can set up a wall of them to display the rest of the lineup. Lastly there's two more desaturated figures of the zombie girl and the gravedigger. The zombie is just completely greyed out, while the other was reworked to properly contrast the stark black & white with just a touch of color in the eyes.
Overall it's a great looking set, and I'm sure I'll find homes for the duplicates either in trades or gifts down the line. Plus I wasn't left with an incomplete set. That would have been a huge bummer.