Cryptkins - Series 1
7/12/2019
I got these a while back, but since I intend to cover Series 2 soon, I may as well take a look at these. I'd say I have a mediocre love for Cryptozoology. It's interesting, but just more at a casual level. However with all the blank mystery boxes of the latest movie or game tie-in, these jumped out of the pack.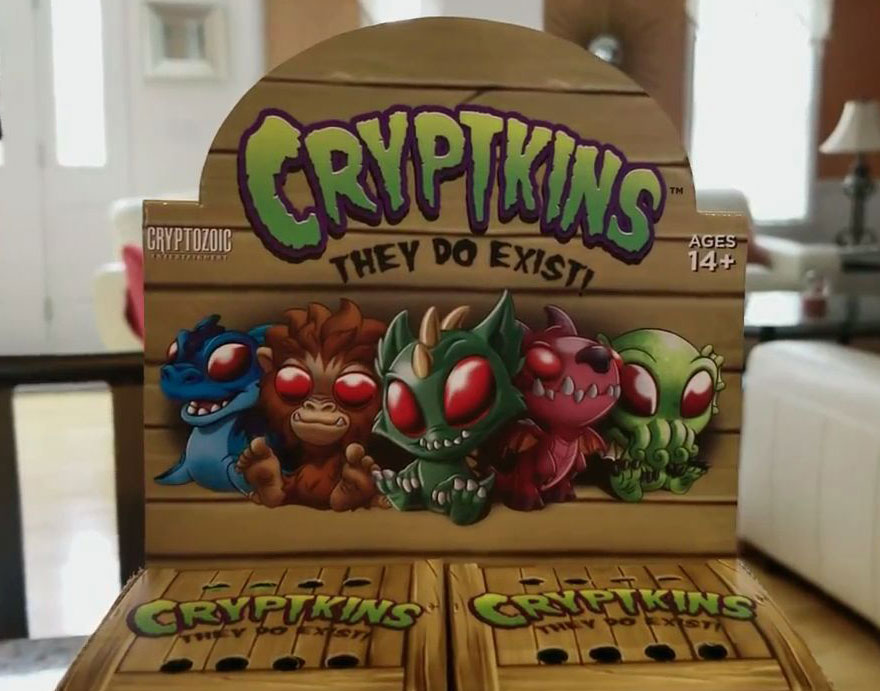 Unlike most blind boxes which mainly come from Funko, these are from Cryptozoic Entertainment. It shows too, since instead of regular boxes, they opted to make them look like shipping crates complete with breathing holes. Now you can't see in side of course, but they also tinted the bag bright green for an extra dash of color.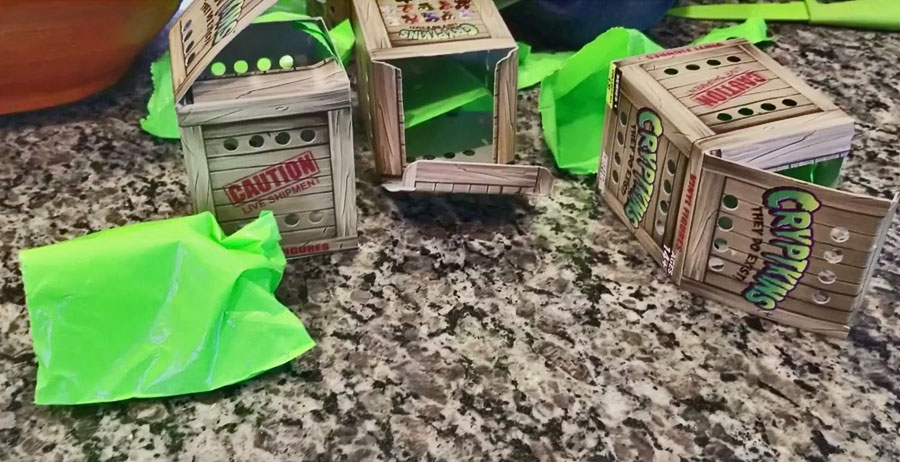 I love the fact that after opening several of them, your counter appears to be the scene of a large scale shipping accident. One where creatures unknown are now out wreaking havoc around town. I suppose you could reuse them for some storage too, but the figures are too nice to avoid displaying.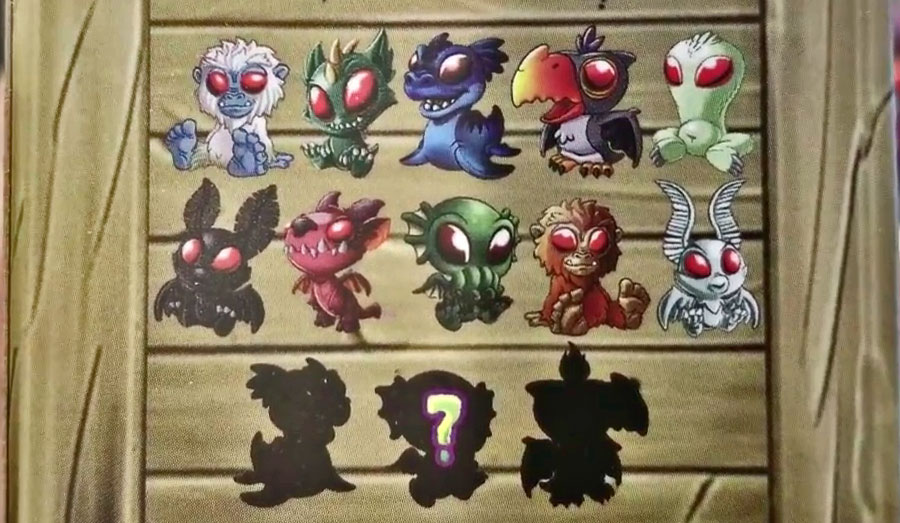 Above we have the core collection. Even among those, you'll notice a few repaints, but they do represent different cryptids. There are a few chase variants too, which are also mainly repaints, but those tend to be variants on the core group rather than completely different creatures.
In the core groups, there's Yeti, Chupacabra, Nessie, Thunderbird, Nightcrawler, Mothman, Jersey Devil, Cthulhu, Bigfoot, and Twilight Mothman. The silhouettes hint at the chase models, which are apparently based on Nessie, Cthulhu, and Thunderbird. They are Ogopogo, Cosmic Cthulhu, and Phoenix respectively.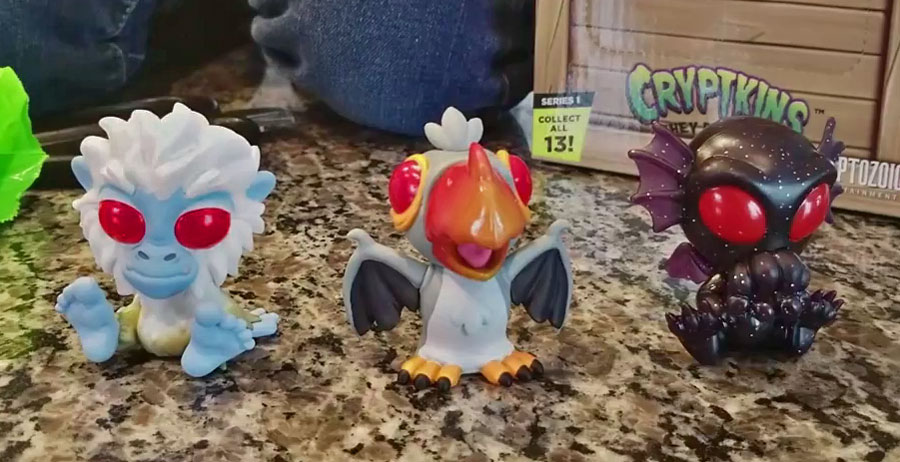 As luck would have it, I got one of the Chase figures on my third attempt. It's Cosmic Cthulhu, which is definitely one of the nice ones. I like the subtle glitter effect on the darker base. Yeti and Thunderbird are nothing to sniff at either, even if I have no idea what Thunderbird is.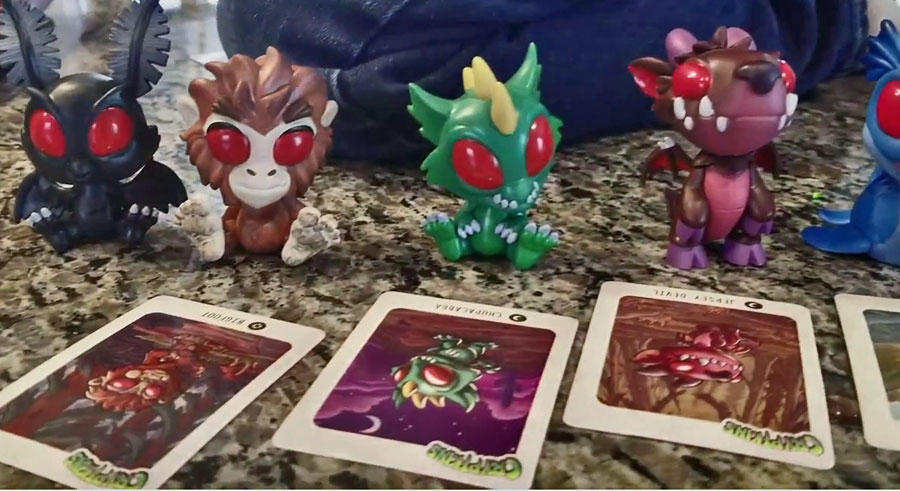 Each comes with a card too, since nowhere else except for the website lets you know what any of them are called. A few seem obvious, but many of them went way over my head. I said I wasn't an expert.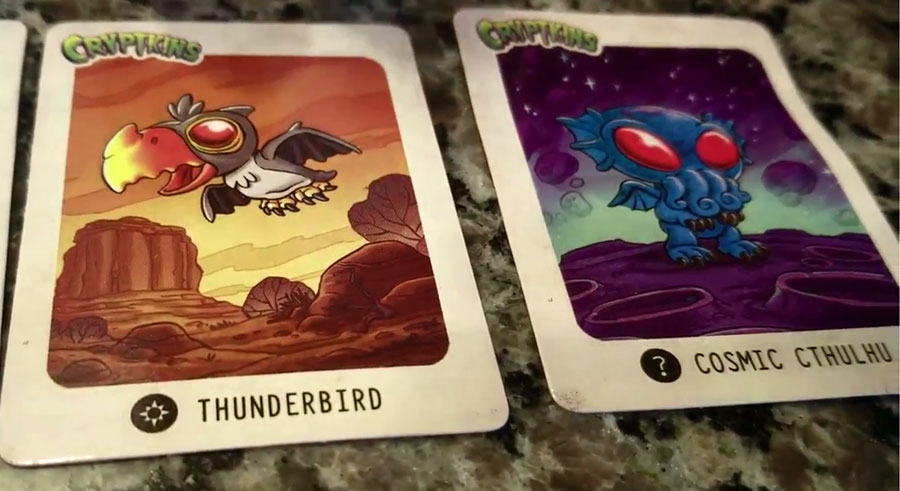 Sadly I didn't get the entire set despite landing a chase. I suppose it makes sense since there are 13 total and 12 boxes. However with 3 chase variants, they certainly wouldn't give you two of them in the same case. I ended up with three duplicates though, so I would have wished to trade one of those to get nightcrawler. Ebay isn't too forgiving on these either. I'll never understand how these figures can be gathering 300% of the sale price so soon after release. Perhaps I'll get lucky.