Fright Haven
Stratford, CT
Website: https://frighthaven.com/
Pricing: $25-65
Type: Haunt
Setting: Indoor
Full Contact Option: No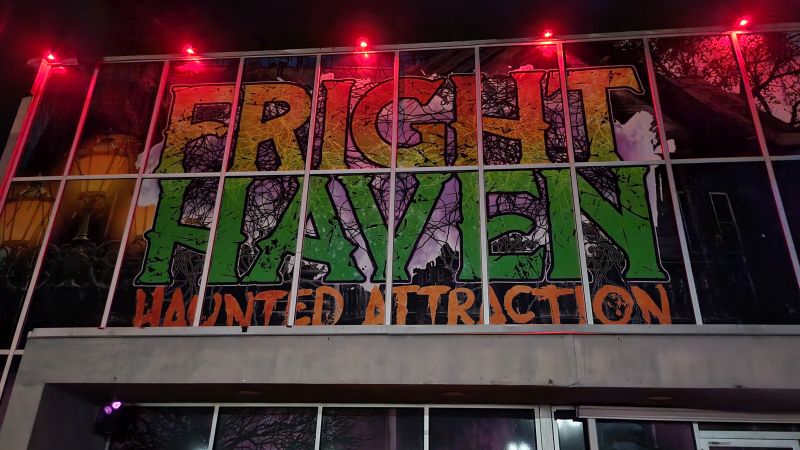 Overview
Fright Haven is a bit of a drive for me, arguably stretching what I'm willing to do in order to hit up a new location. Legends of Fear is nearby and usually is a sure bet for a good time, but at $240 for the family, it's hard to justify. So instead, I chose this and the previously mentioned Fear World.
Normally, I would have taken i95 straight there, but coming from the prior location up north a bit, I ended up spending about a half hour on twisting darkened side roads with someone who naturally was on my rear bumper with high-beams on, despite an otherwise deserted street. At long last, the trees broke way for a familiar looking commercial area, and Fright Haven was located in the rear portion of a parking lot containing a sport supply store.
Luckily the flashing lights and blaring post-NuMetal keyed me in on where to drive, and I found a spot in an otherwise empty parking lot. If it weren't for the noise and lights, I would have second guessed whether or not it was open. A long twisting divider alluded to the possibility of line cues, but we were able to walk right past that into the front door.
Once inside there was also no wait at the counter to get our digital QR codes turned into physical tickets, and there was even time to take a few photos of the decorated lobby. A few signs indicate that there are mid-seasonal events for Christmas, Valentine's Day, and Easter, so like Fright Kingdom, they pop back to life a few times a year.
Hotel Hex is the current motif, and they play up the aesthetic well. While most haunts certainly have themes, the hotel angle gave the proceedings a sense of continuity. You're greeted by the hotel front desk, who asks you if you're ready for your stay, and then directs you to the elevator. The elevator's bellhop closes the door for you, and the unit crashes around until you're deposited—a bit shaken—into the adjoining room.
From there, you traverse the layout of the hotel, wandering from room to room while the guests and haunts alike torment your visit. Detail is well done, and the decor hides the labyrinth nature of the attraction while using atypical navigation options such as overturned dressers as barriers instead of the usual plywood walls.
The passage contains a few novelties, one being a walkway over some debris, which tilts suddenly and forces you to grab hold of the railing to continue to the other side. At the end, there is a merch table, a coffin 'experience' and an escape room. We were slated for a midnight return home after that, so we didn't partake in any of the extras, but I would be interested in seeing what those had to offer down the line.
Fright Kingdom is one of the few places I've seen that offers wheelchair accessibility, so that is something to consider if mobility is an issue, but you still want to visit a haunt this season. I do hope that more people attend, so it continues to thrive. I imagine a Saturday night would be a bit more lively.
Photos
Ratings
Ambience:
The hotel theme and the accompanying touches lifted it above a traditional haunt. I liked the faulty elevator, the process of 'checking in', and the way the rooms had you entering and exiting in odd ways, rather than the standard doors. Detail kept up the illusion of a sprawling building, rather than a maze.
Value:
It's right in the middle of the standard pricing, and the experience was well worth that amount.
Scares:
Actors were plentiful, and seemingly outnumbered the patrons several fold. They did a great job with makeup and the screams, all fitting into the overarching narrative.