Fright Kingdom
Nashua, NH
Website: https://frightkingdom.com/
Pricing: $35
Type: Haunt
Setting: Indoor
Full Contact Option: Yes (Certain nights, light grabbing)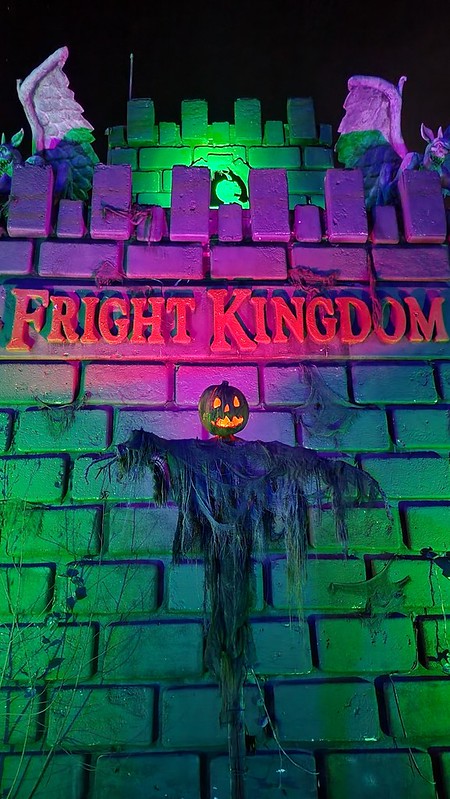 Overview
Fright Kingdom is a haunt that I've frequented many times. Located in the lower parts of New Hampshire, it isn't a bad drive for me even when compared to some locations in Connecticut. It also helps that there are several off season and alternate event nights, but I will save those for their own brief review pages and focus on the standard Halloween season.
The location is completely indoors, which helps with the temperamental New England weather that often plays havoc with the weekends this time of year. Inside are five distinct attractions, but they are strung one after each other, with a short queue between each for crowd control. This helps with some of the pacing, since a long continuous path would inevitably have groups bumping into each other. It still happens, but there's generally no cattle car effect, and your experience is solo for the most part.
Apocalypse Z, Bloodmare Manor, and The Abandoned are traditional walkthroughs with ancient mansion rooms and laboratories gone awry. Psycho Circus is clown themed, and much like the ones at Witch's Woods and Spooky World, you get a pair of prismatic glasses that make the neon paint jump out at you, causing a general sense of disorientation. Grim is the newest piece, and bridges two of the longer haunts. You're placed in a labyrinth of pure darkness, and have to use the walls to find your way out. Fortunately, there are no branching paths, so it's mainly a matter of not bumping into too much.
Fright Kingdom's indoor location benefits by not having to remake the attraction each season. Props and sets can remain untouched and ensure the passage of time will continually add to their decrepit aesthetic. Since I'm not one to react to jump scares, I appreciate the level of detail that gives me some time to absorb while I walk around. A suspension of disbelief is one of the factors that I enjoy, and you can begin to forget that these hallways are built up inside of a larger warehouse. Even the mundane decorations like old library books give the rooms a lived in, then forgotten, feel.
Once you're out, the Monster Midway offers several food trucks and vendors to keep things going. There are a few places to take photos as well, including a hearse, a giant pumpkin mouth, and an animatronic balrog of sorts. The initial wait in line is also full of atmosphere. The facade of the building looks like a castle with multi-colored smoke and roaming actors. Inside, there is another line to validate your tickets, and then another staging area before you enter the attraction proper. This isn't to convey that there is an excessive wait, however. Timed tickets help with that, and it's never more than a few minutes to progress to the next section. The final area also doesn't press you to continue right away. There's statues of famous slashers, a robot 'live' band, some blow-mold displays and even cabinets of vintage Halloween goodness. Since the now defunct X-Entertainment website is a huge part of this site's inspiration, I'll add this Easter Egg: you can spot the famous Shrunken Apple Head kit by Vincent Price in one of those displays. I feel like that was worth part of the admission alone sometimes.
Overall, there's a lot on offer, and it's worth a repeat visit or two. You can also check out the 'In the Dark' event where you only get a glow stick to find your way, and actors can interact with you (nothing too intense, just snagging the hem of your sleeve for example). For the kids, there's a daytime event where they can walk inside with the lights on while they are dressed in their costumes. The props have fun masks on to hide the more frightening elements, and there's candy at the end. And if you're looking for a spooky fix outside of October, check out Half-way to Halloween in May or Fright Before Christmas in December, when the props wear Santa Hats and are strung with Christmas Lights.
Notable Moment
Spotting the Shrunken Apple Head box is a bucketlist-worthy goal, but elsewhere in the gallery is a lifesize cutout of Adam Sandler. Amdist Freddy, Jason, and Pinhead, it feels completely random but in a funny way.
Photos
Ratings
Ambience:
Inside and out is filled with detail within every corner. Actors roam around while yuo are in line as well as the usual spots on the attractions. The mid-points between the zones all have plenty to look at and give off a feel of another place in time. The highlight is the staging area with the odes to Halloween past and present.
Value:
It's halfway between the medium range and the multi-attraction locations that reflect that in their admission. Multiple attraction consideration is always a tricky thing to quantify, since in cases like this, the navigation is split into segments and themes, but I wouldn't consider them to be unique facets of the experience. There is still a lot of content though, especially once you add in the areas outside the active haunts.
Scares:
Actors do a good job, and also keep you on your toes while you wait, so the scares begin before the main event technically does. Aside from that, they're limited to the no-contact rules as usual, so lous noises and jump scares follow a familiar formula.