Haunted Gallows
Burrillville, RI
Website: https://hauntedgallows.com/
Pricing: $23-46 ($5 parking/coupon book)
Type: Trail
Setting: Outdoor
Full Contact Option: No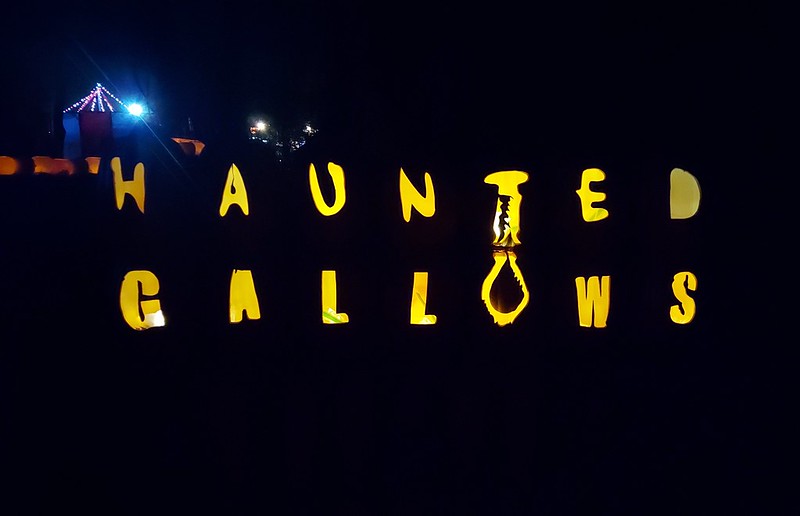 Overview
Haunted Gallows was a fun one. There are no shortage of attractions dotted across New England, and it's easy to overlook some that don't appear on the top of the big lists. However it's worth digging in and finding a few of the out-of-the-way spots.
Located right on the border of MA, just above Rhode Island, it's an easy drive from many places in New England, making it a good place to drop by or combine with another haunt on the same evening. The remote nature of Burrillville (or Harrisville, or Uxbridge, or whatever other name is listed on the various socials online) adds to the eerie feel when driving in. A long winding road gives no indication that you are about to arrive. I often wonder what we would go without GPS (answer: we didn't do half as much).
Parking is $5, but it's considered a donation and you receive a coupon book valued at around $15 in return. I recall one being a free appetizer for a place I frequent, but naturally I lost the coupon soon after. Admission gets you into both trails. You could argue that they could have been combined, but the ticket price doesn't reflect a double feature in the same way Barrett's or Witch's Woods do, and that's fine. Since each has their own theme, breaking them up doesn't hurt.
I feel like despite the nonlinear nature, you had to do one before the other. Bethsheba's Woods is located deep in the woods and requires a jack-o-lantern lit pathway to get to it. It then twists deeper into the forest, with the dimmest of illumination underfoot before you're chased out with a chainsaw.
The Dark Fair comes after, and is closer to the ticket booth. This is naturally a circus/clown affair, which also goes through the woods, but has a bit more in terms of carnival props and aesthetics. A bonus to this attraction is its interactivity. You begin in a big-top tent and each member in your group has to pick a door to continue. I was thinking that some may be dead ends or would give you a different experience, but they loop around and everyone ends up back together. Afterwards, there are some games that the clowns make you play in order to continue, and so forth.
Outside the two trails, there is some axe throwing, which doesn't cost anything. It's part of the atmosphere and is a nice bonus. There's plenty of photo ops around, so you;ll be sure to return with a slew of pictures.
Photos
Ratings
Ambience:
Most haunted forest trails blend their spooky elements with the landscape, and the pathways leading up to them are full of lights and places to grab some pictures of soak up the atmosphere. The addition of axe throwing complements the carnival vibe well.
Value:
It's right in the median, and worth it for the two trails. Despite the division, the price isn't inflated to reflect two distinct attractions. Parking is extra, but you get the fee back with the coupon should you not lose it like me.
Scares:
The dark and remote setting is good at hiding actors. The interactive nature of the second trail adds a few extra thrills, specifically the carnival game where one person is going to get splashed in the face, and you don't know whom.