Haunted Labyrinth
Cranston, RI
Website: https://www.hauntedlabyrinth.com/
Pricing: $12
Type: Haunt
Setting: Indoor
Full Contact Option: No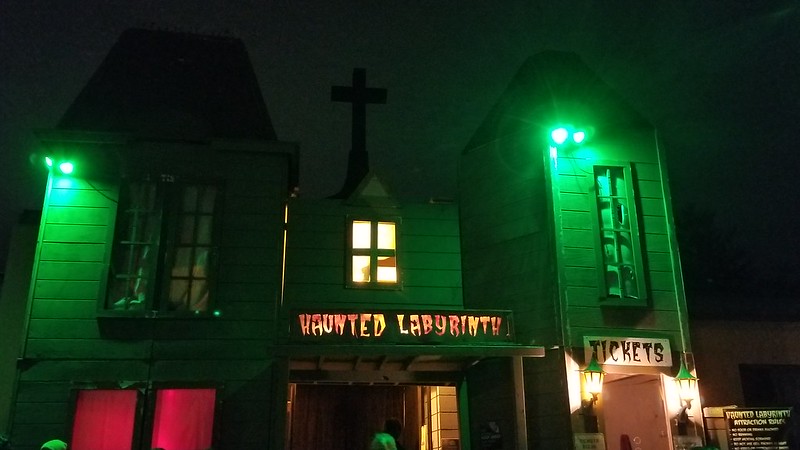 Overview
The Haunted Labyrinth is run by the Rejoice in Hope Youth Center as part of the Catholic Diocese of Providence. Unlike many of the others reviewed here, this is a fully volunteer and donation based attraction run by teenagers and some adult supervision. According to the website, planning starts only a few months after the prior season, constructions begins over the summer, and then the actual haunt goes throughout the month of October.
The main feature of the Labyrinth is its rotating themes. Each year, the project is taken down and rebuilt with the new choice. I recall one dealing with aliens, another with an early 20th century masquerade ball, and most recently, a b-movie director. Now many of the props resurface each year, because it would be a bit wasteful to trash and reaquire items like that especially when much of it feels like it was sourced from a 1940s hospital or household.
Another commonality from year to year are the hidden doors. Many of the rooms are connected by the usual plywood winding maze structures, but when you get to a setpiece, it's often a small puzzle trying to figure out where to go. And I don't mean it's confusing as where to go, you just have either a choice of possible false doors, or perhaps one of the walls has a hidden hinge that lets you progress. Small touches like that help enhance the experience beyond just walked through a set with the occasional scream and banging.
Now there is certainly plenty of screaming and banging. The actors are all teens, and as such, all bets are off when it comes to surprising the guests. It's one of the charms that brings me back to the very first haunts from when I was younger. My school and a local church were where I cut my teeth on the concept of a haunted walkthrough, and they were of course homemade from cardboard and plywood, with the most sincere of touches. That's not to say the Labyrinth is cheaply made and feels like it's going to fall down if you stumble off the main path, but the haphazard collection of aging items and handpainted ghastly decor has a charm all of its own. And in many case, I've gone to professional haunts that feel on par, so it's a job well done on a shoestring budget.
Notable Moment
There was a horseless carriage outside for photo-ops. We were taking some pictures when an actor started creeping up on us. My son then ripped some wind, and I heard the spook shout "I gotta get outta here!" and ran off.
Photos
Ratings
Ambience:
Sets are well constructed, and the natural forest environment works well in alluding to abandoned and long forgotten structures that happen to be out in the middle of nowhere. The wailing sirens and clanging bells also give you a nice prelude before you even get in.
Value:
This is the least expensive haunt around. Since it's a volunteer effort and all procedes end up as donations, there isn't a real need for a high admission fee. And for what you get, the cost vs entertainment balance proves to be a good value.
Scares:
As with any traditional no-touch walkthrough, there's a lot of yelling and banging to provide jump-scares.