Haunted Tunnel
Pawtucket, RI
Website: https://www.facebook.com/hauntedtunnelri/
Pricing: $5-10
Type: Haunt
Setting: Indoor/Outdoor
Full Contact Option: No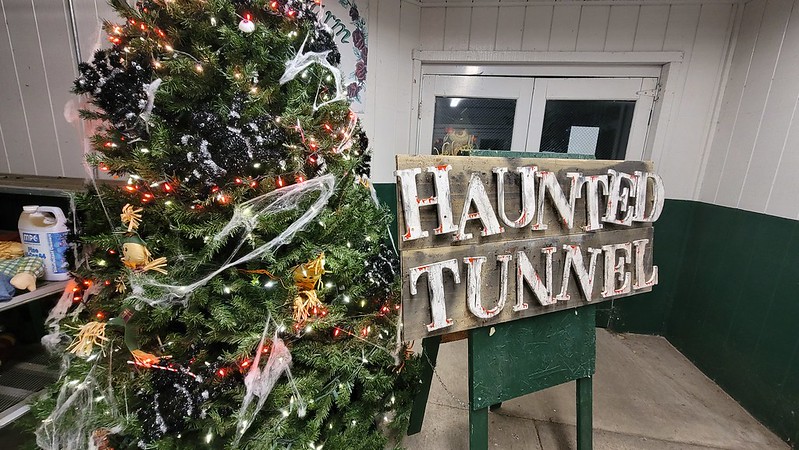 Overview
The Haunted Tunnel started as a volunteer effort for animals, and decades later, it still is putting on a thrill for a good cause. Located on farm/park of sorts, an old storm drain has been converted into several spooky set pieces, followed by some outdoor pathways. The entrance has a few photo ops with a festive Halloween Tree, and then you head out into the dark to walk across the property until you get to the proper entrance. Like others that I've reviewed, discontinued industrial landmarks have their own unsettling appear, separate from the traditional Halloween aesthetics.
Each initial room has it's own theme, several of which are laboratories within a decaying environment. The structural basis of the tunnel works well in providing a near claustrophobic experience. Once outside, there is a cemetery and a maze to get through before being let out the Daggett Farm gates.
Once the Tunnel is complete, there is a kid-friendly setup accross the parking lot. It's a separate (small) admission if you have young ones. There's a pumpkin display, charaacter, and of course free candy.
Notable Moment
Photos
Ratings
Ambience:
Entering the initial tunnel works as a nice intro. The discontinued concrete opening gives off the impression of venturing into a forgotten era.
Value:
$10 is for the tunnel, and $5 is for the kid-friendly pumpkin display. You can choose either depending on what you want to do.
Scares:
As a volunteer event, there are limited actors, but each of the initial rooms are decorated nicely, and the outdoor portions have a nice stroll through a cemetery and corn maze. The remainder of the event is kid-friendly.