Spooky World
Litchfield, NH
Website: https://www.nightmarenewengland.com/
Pricing: $40-85 ($5 parking)
Type: Haunt
Setting: Indoor/Outdoor
Full Contact Option: No (but the hayride might have some accidental brushing)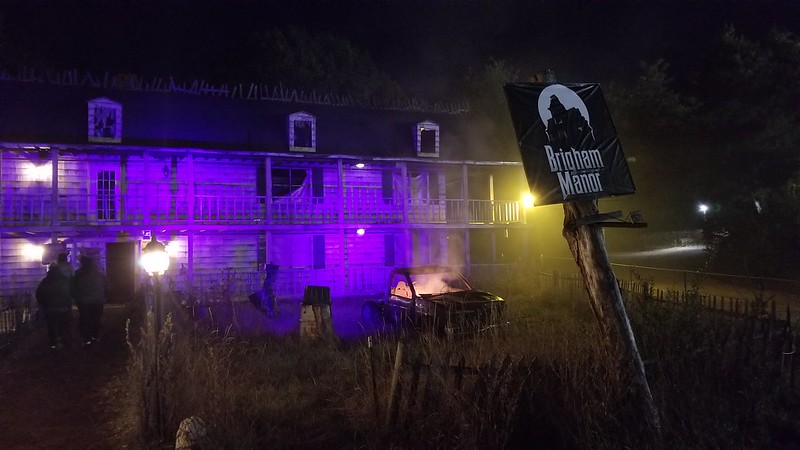 Overview
Spooky World (aka Nightmare New England, another place with multiple names where I don't know which is the primary) is a sprawling location up in New Hampshire. Consisting of several smaller attractions, there's a hayride, haunted walkthroughs, and a midway with food, games, and merch. Much of the midway is a la carte, so the smaller carnival-style games up to axe throwing and paintball will be extra. The main tickets will grant you access to the hayride and haunts, unless you have the VIP pass, which will has several extra benefits. You get front of the line access, free use of the batting cages, mini-golf, and go-karts, and the ability to walk through the indoor haunts a second time on the same night.
The hayride is the main draw in my opinion. Perhaps neck-in-neck with Witch's Woods or Legends of Fear, the path taken is sufficienly lengthy, and the forest details are impressive. My favorite portion was the cannibal villiage, which makes you feel like you're starring in something akin to the Green Inferno. Characters will hop on board and taunt participants, which can be a little cramped due to how many people are loaded onto each trailer.
After the hayride, you are left in the middle of the forest and enter The Colony. This outdoor portion consists of smaller structures themed around hillbillies and deranged forest people. Expect a lot of chainsaw action and hanging rubber livestock. The second portion wraps around Asylum 47, a manor of decaying and abandoned rooms, full of the insane. It concludes with Nightmare in 3D, where prismatic glasses made clown decor jump out, leaving you with a sense of disorientation.
The last year I attended, the Asylum had replaced Brigham Manor, which was an imposing two-story building full of detail. I was looking forward to going though that again, but I guess things changed. Looking through recent reviews seems to indicate that even in 2020 when I first visited, things had taken a downward turn for the worse. The cattle-car effect was mentioned a few times, and I had found myself using that terminology on this and several other haunts. It's understandable that there's only so many hours in the night, and crowds can be unpredictable. While it would be nice to have small groups meander through at their own pace, it's not often practical. Sometimes you're paired with another small group, or more typically, you and up running into the group ahead if they're shuffling their feet. Here, however, it felt like a long train of people where actors could only focus on a fraction of those who pass through. Luckily the details are nice to look at, which is what I tend to focus on.
Going back to crowds, that was another thing that stole some of the fun. Tickets are on the high side at $40-55 for basic admission, and up to $75-85 (plus fees) for VIP. The latter does get you some bonuses, but personally I'm not sure if it's worth just buying the extras on their own. Others seemed to have not problem, since the hour+ I spent in line waiting for my timed ticket was inflated primarily due to a never ending stream of VIP people wandering over and grabbing the next hayride. Perhaps if I only did an attraction or two throughout the season, it may make sense, but when you push upwards of 20, then it's not really possible. Most of the time I've never seen a benefit of VIP line skipping, but here it seems to be neccessary, ironically due to the existence of VIP admission itself. It's a self-perpetuating spiral.
So overall, I wish the crowds were a little less, and the tickets a little lower, but it's still a well done attraction. Even with the lines though, actors would wander around and blast you with air cannons or generally act neurotic. It helped pass the time.
Notable Moment
Two clowns were wandering around the lines, keeping things lively. At one point, one of the clowns gave my son a small skeleton since he was dressed up like one. Then she reached into her other pocket and gave another person some wet spaghetti. It took me a while, then it clicked...creepy pasta.
Photos
Ratings
Ambience:
Detail and setting is top notch. I miss the Manor, which was a large part of this, and I wish the flow was a little more relaxed so you could take it all in.
Value:
It's near the top of the price structure, but you do get several features for the money. I'd place it right between Witch's Woods and Legends of Fear, where the haunts are on par with the hayride.
Scares:
The darkness of the forest is good for hiding actor. There's also hidden IR cameras around, and you can sometimes have a scare caught on film, which can be purchased later on when you leave.