Stonington Fair
7/21/2021
County fairs. They seem to be the perfect segue from Summer-specific activities to the ones more applicable to Fall. It's hard to really even pinpoint which timeframe they feel like they're more attached to, but I suppose that's why they hold some seasonal cross-appeal.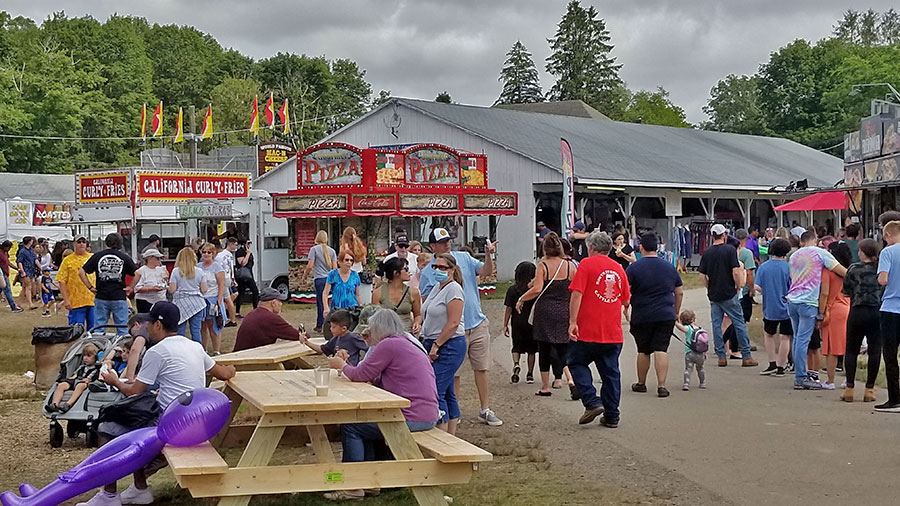 Now there's a few flavors, so to speak, of county fairs. Some opt to feature animal husbandry, others focus on carny games and rides, while still others are vendor heavy. That's not to say there isn't varying levels in the mix amongst most, and that was certainly the case here. I wrote about the Tri-County Fair two summers ago, and that primarily had vendors, rides, and a few animals, but nothing in the way of games or crafts. Thinking back to others I've been to, the 4-H fairs stripped the activity down to just some cows and dioramas created by children.
So while Stonington had a few games, a few rides, and a few vendors, the animals took more prominence. Truth be told, I'm usually fine with whatever is offered as there's always something to keep my interest. It's all about the chaotic experiences, and that was certainly the case here.
The fair was on the small side, all things considered. Parking was free, which was fortunate, and admission was like $10, also fair. Upon entering, the most striking aspect was the demographic. I felt, if for a second, that I might be some face-paint away from a Gathering of the Juggalos, but that only gave it more rural charm.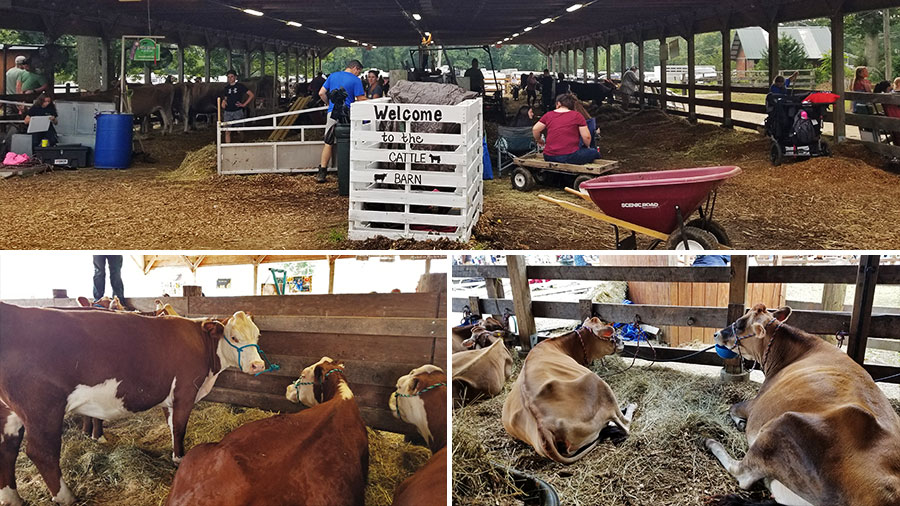 The first section housed the animals, specifically the cows...or cattle. Though I believe there were only cows, making the Cattle Barn name sort of a misnomer. Perhaps there was some bovine wokeness in effect that I didn't understand. Wouldn't be the first time.
Beyond that were the goats, sheep, and chickens. It was interesting to see the various breeds in their original purebred form. Most of the ones I've seen with family members have been cross-bred to the point of complete randomness, so show prizes have become one of the few places to see the distinctions. My favorite was a completely muted out melanistic chicken, of which I only took a video of, so you can't see it here. Sorry.
Moving on, there was the barn full of crafts and artwork. Again, I don't have any pictures, but just imagine some random snapshots and fanfic drawings, and you get the gist. There were also plates of berries and eggs with flies all over them, so word to the wise: don't show up on the last day.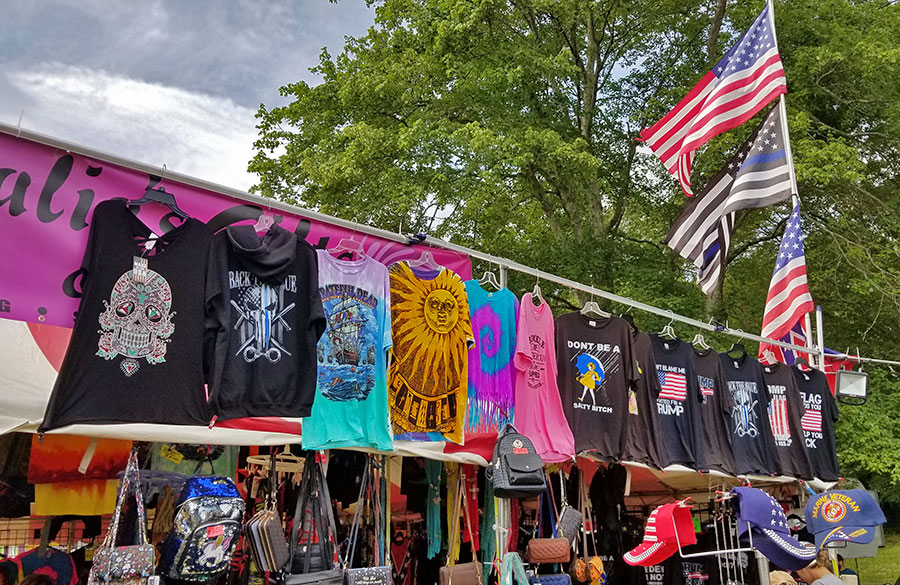 Vendors weren't really abundant, but there were enough. Most seemed to be peddling jewelry, wire-artwork, and foodstuffs. The only thing I picked up was from the latter, but I'll get to that shortly.
One constant in most vendor tents, is the presence of some Indian-related offerings, like dreamcatchers or shirts with wolves on them. I suppose we're not supposed to say Indians, but I also thought Native Americans was replaced by First Nations, and in the past few minutes that was probably replaced with something else. I'll be inconsiderate no matter what I choose, so just pick one and pretend I know what I'm talking about.
I'm sure the next stand will ruffle some feathers even more, so while you gawk at the punisher skulls, blue lines, and confederate flags, all the while anticipating the motive behind it, do know that the owner was just some frail Vietnamese woman looking to make a buck.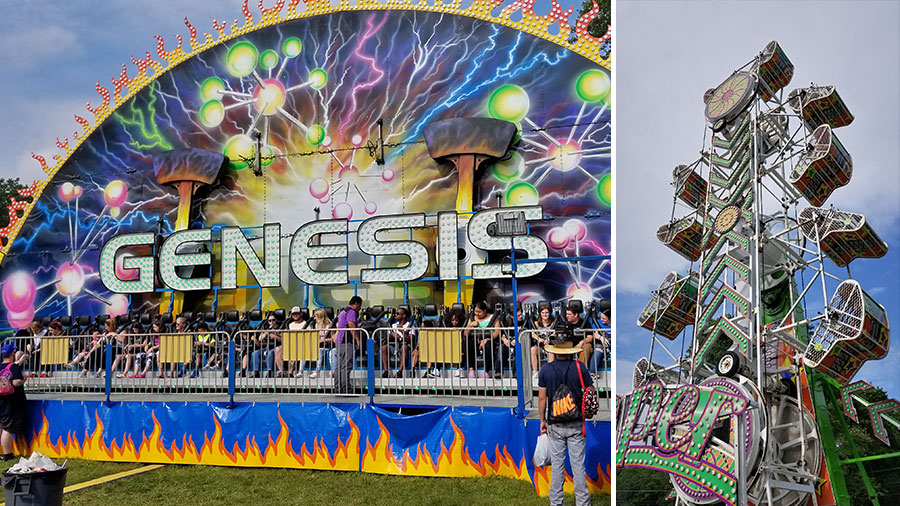 Moving on, before I'm pelted with rocks, we get to the rides. Pictured here were the two that seemed remotely interesting. We toyed with buying tickets to go on, but it was going to come out to about $40 for a group to go on both, and the lines were crazy. I figured that money could be used for better purposes.
Somehow the carny games almost felt like a better deal. At least you got to take home some sort of basic prize no matter what. The only one you need to stay away from is the basketball hoops, since the forced perspective doesn't quite reveal how flattened they are, thus preventing any chance of success. When all else fails, you can pretty much just buy the same things at the booth next to the games for a few dollars, and most of the time it ends up costing less.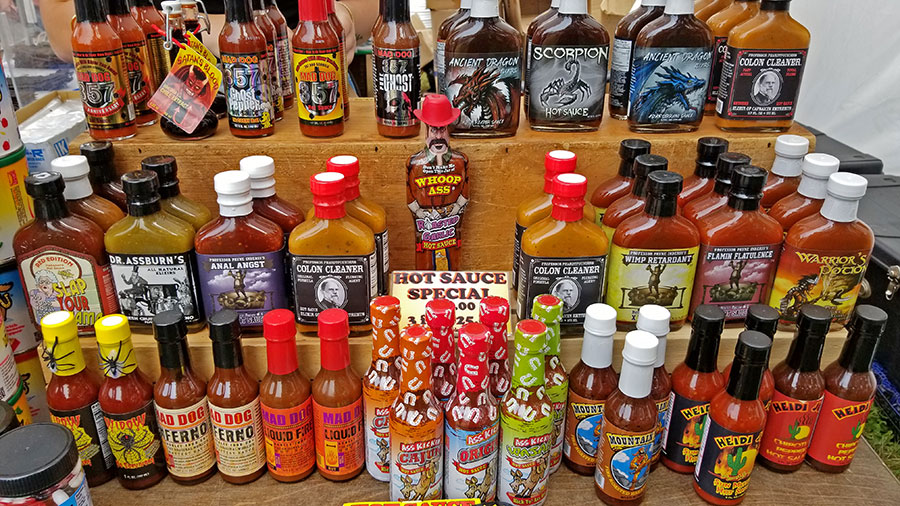 I think that almost wraps it up. There were tractor pulls and horse pulls, but I only stayed for part of one. I'll throw a GIF at the bottom for good measure, just to prove I'm not lying.
The one takeaway from the day was a selection of hot sauces. It's not easy to find the real hot ones in person, so the array here certainly gave me some options. I'm actually already working through a bottle (vial?) of the Satan's Blood, otherwise that would be a sure thing for the presentation alone. I've had the Mad Dog sauces before, although they're usually of the extract persuasion and have that certain taste to them. They predated the Ghost Pepper and Carolina Reaper sensation, so back then, the only way to get a real kick was to boil down the capsaicin. It never did much for the flavor.
I ended up getting the Inferno and Liquid Fire on the bottom as well at the Black Widow. Still haven't opened half of them, but so far the one bottle has been decent. I was tempted to get some on the top shelf, but of course that sign in the middle offering a 3/$25 deal didn't apply to anything good. Ah well. Wouldn't be a fair without some sort of trickery.